THE ALL-IN-ONE CRYPTOCURRENCY PRICE AND ON-CHAIN DATA APP
---
View real-time cryptoasset pricing and relevant on-chain data in a single app!  Our pricing reflects the Coin Metrics' reference rate, which is calculated using an independent methodology robust to manipulation.  Our on-chain data includes proprietary metrics like Free Float Supply and Realized Market Cap.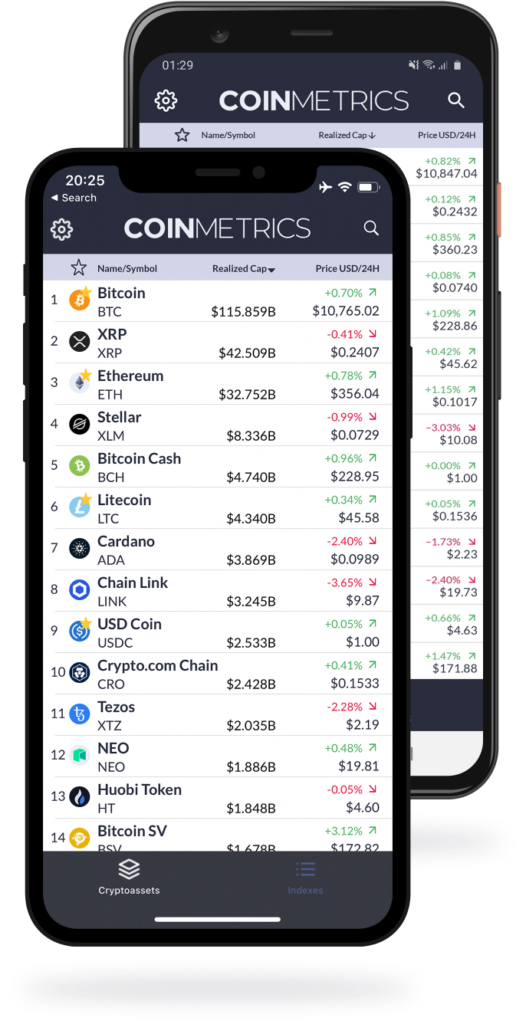 BROWSE THE MARKET
---
Quickly browse the current price, 24 hour price change, and realized cap for over 60 different cryptoassets.  Prices are updated automatically at 15-second intervals. Touch on each asset for more details.
EXPLORE CRYPTOASSET DETAILS
---
Dive into the cryptoasset details. See 1-day, 1-week, 1-month, 3-month, 1-year and all-time price charts for each cryptoasset. In addition, view over 20 on-chain metrics.
FIND RELEVANT ON-CHAIN DATA HIGHLIGHTS
---
Our on-chain metrics are sourced from Coin Metrics' best-in-class network data and include Realized Market Cap, MVRV (market cap/realized cap), CM's Free Float Supply, Active Address Count, 1 Year Active Supply, Transaction Count, Total Fees, and many more. Find on-chain metric definitions at the touch of a button.
VIEW COIN METRICS BLETCHLEY INDEXES
---
Coin Metrics Bletchley Indexes (CMBI) are now on the app. The CMBI suite includes single-asset and multi-asset index solutions trusted by leading crypto and traditional capital markets institutions.
VIEW JUST YOUR FAVORITE ASSETS OR VIEW THEM ALL
---
Tag your favorite assets. Your favorites will then be highlighted in the cryptoasset list or you can filter the list to include only the assets you've tagged.